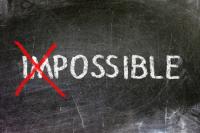 Who believes the impossible? The word itself inspires and promotes disbelief. It creates boundaries; drawing lines that say "Don't cross." The word "can't" repeated over and over again. "Thinking outside the box" becomes non-existent.
Children believe the impossible. It's one of the great things about them; their innocent belief that anything can happen. Pablo Picasso said "Every child is an artist. The problem is how to remain an artist once he grows up." It is true that there is a wisdom that comes with age(hopefully), and we grow more mature as we get older(again hopefully), but there are things that shouldn't be left behind, that get crushed by the weight of the world. One of these things is the ability to dream of the miraculous.
Disappointment. What a cruel and damaging word. You first experience that moment when you mentally awaken to find that the world is not perfect, that people make mistakes and have the ability to hurt each other, and that you yourself are flawed. It's a heart-wrenching experience when you realize that not all dreams come true. When you are splashed with harsh, cold reality and suffer the brutal injustice of the world.
So many times there is no recovery. No recovery of spirit and the ability to look forward with hope and cheerfulness. The excitement and anticipation of living life disappears. Instead, it becomes a dreary road that we trudge through, barely surviving. Instead of living life to the fullest, the goal that we then settle for is to just survive.
Luke 1: 26-38 NIV
In the sixth month, God sent the angel Gabriel to Nazareth, a town in Galilee, to a virgin pledged to be married to a man named Joseph, a descendant of David. The virgin's name was Mary. The angel went to her and said, "Greetings, you who are highly favored! The Lord is with you."
Mary was greatly troubled at his words and wondered what kind of greeting this might be. But the angel said to her, "Do not be afraid, Mary, you have found favor with God. You will be with child and give birth to a son, and you are to give him the name Jesus. He will be great and will be called the Son of the Most High. The Lord God will give him the throne of his father David, and he will reign over the house of Jacob forever; his kingdom will never end."
"How will this be," Mary asked the angel, "since I am a virgin?"
The angel answered, "The Holy Spirit will come upon you, and the power of the Most High will overshadow you. So the holy one to be born will be called the Son of God. Even Elizabeth your relative is going to have a child in her old age, and she who was said to be barren is in her sixth month. For nothing is impossible with God."
"I am the Lord's servant," Mary answered. "May it be to me as you have said." Then the angel left her.
Mary, the mother of Jesus, believed the impossible. She had faith and witnessed the miraculous. Not only that, she lived it. How many of us could do that? I want a faith like that. I want to be the one who can say, if God tells me something, "May it be to me as you have said." I want to live with the hope of seeing miracles, to see God work in people's lives, to see impossible situations changed around. I want a faith that can move mountains, that is unshakable, that the world can never beat down.
My name is Jessica Stewart and I believe in the miraculous. Do you?
You might also like