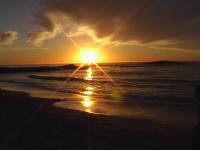 "So, what brought you here to the Tri-Cities?" I was asked by one of my clients last spring. I love this question because I work in secular employment when I am not ministering with Cell Life. "Actually, my husband and I are pastors and we came here to plant a church." Usually, this gets one of two responses, "Oh, well, that's nice." or "Really? How wonderful!" which is followed by several other questions.
On this particular day, Tony began asking me several questions about the Bible and who God is. After our time together he closed with telling me that he had an uncle who kept inviting him to church and maybe he should, "check it out." I encouraged him to do so. I handed him one of my cards that has our church website on it for if he had any more questions. We had just wrapped up our "Introducing God" series and I figured this would be a good way for him to discover more of who God is.
A month or so later, once again I saw Tony. His countenance had changed and he was grinning ear to ear. He couldn't wait to tell me that he ended up going to church with his uncle and getting baptized! He said, "I always wanted to be baptized. My parents are Mormon and I do not believe what they believe." I was so happy for Tony and encouraged him to continue to go to church and study God's Word.
About six months had gone by and I had seen Tony every now and then. Each time he shared with me what he was learning at church and once in a while would ask me what I thought a particular passage of scripture meant. I was enjoying seeing the growth in Tony and how God was changing his life.
About three weeks ago I came into work and was shocked to see a message on our employee bulletin board. It stated that Tony's mother had called to say that he had passed away unexpectantly. I was shocked. I had just seen him a few days before at an athletic club. He was only 45 and appeared to be in good health.
You see, you just never know when the Lord will call us home. You never know when the Lord is going to use you to impact a person's life for eternity. God didn't tell me to save Tony's soul, that's his job. God just told me to be obedient and not be afraid to speak the truth about Jesus.
I am elated to know that Tony is dancing on streets of gold today! I am honored that I played a small part in his eternal security. I am not perfect, I just heard God and obeyed. There are times when I am not obedient when God asks me to do something. We are all guilty of that. However, when we hear the still small voice of God we need to be prepared to act. For we do not know what the ramifications will be; it could mean Heaven.
You might also like