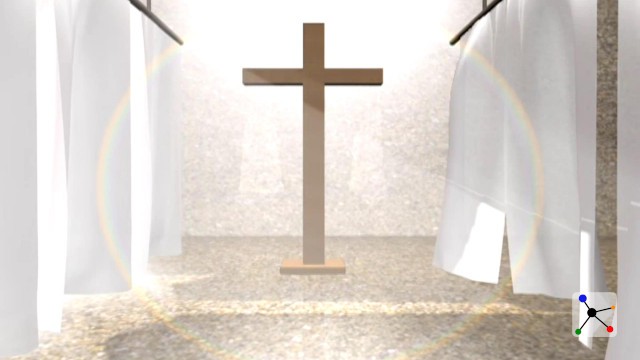 A friend of mine recently asked me a question about our sins effect upon believers in heaven. This question arose out of a conversation he had with another Christian. I thought I would post those scriptures I shared with him confirming how we are completely forgiven.
Rev 21
"Then I saw a new heaven and a new earth, for the first heaven and the first earth had passed away, and there was no longer any sea. 2 I saw the Holy City, the new Jerusalem, coming down out of heaven from God, prepared as a bride beautifully dressed for her husband. 3 And I heard a loud voice from the throne saying, "Now the dwelling of God is with men, and he will live with them. They will be his people, and God himself will be with them and be their God. 4 He will wipe every tear from their eyes. There will be no more death or mourning or crying or pain, for the old order of things has passed away."
5 He who was seated on the throne said, "I am making everything new!" Then he said, "Write this down, for these words are trustworthy and true."
I love the phrase "I am making everything new".
Psalms 103:9-12
" He will not always accuse, nor will he harbor his anger forever;
10 he does not treat us as our sins deserve or repay us according to our iniquities.
11 For as high as the heavens are above the earth, so great is his love for those who fear him;
12 as far as the east is from the west, so far has he removed our transgressions from us."
If our sins are removed as far as the East is from the West then how will we have any regret of them in Heaven.
Jeremiah 31:34
34 No longer will a man teach his neighbor, or a man his brother, saying, 'Know the LORD,' because they will all know me,
from the least of them to the greatest," declares the LORD.
"For I will forgive their wickedness and will remember their sins no more."
If Jesus remembers our sins no more then why would we?
Well, just one more tonight. Romans 8:1 Therefore there is now no condemnation for those who are in Christ Jesus, because the law of the spirit of life has set us free from the law of sin and death.
So as we start off this new year let's keep things in perspective. While we live here we are to have a healthy dislike for sin and its effects as Romans 12:9 tells us. But we have a great promise that the work of Jesus on the Cross is a complete work with great promise we are realizing and will realize completely in heaven.
You might also like