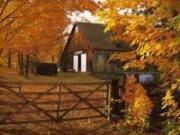 I am thankful for many reasons. Far too many to list them all. However, my hope is that my countenance and my attitude show how grateful I am for all the blessings that have been bestowed upon me by God, family, and friends. As I look back on Thanksgiving holidays in the past, there are some that stand out.
It was 1995, I believe, when I first spent Thanksgiving Day with my future bride's family. Kelly's family is amazing. They invited me in and made me so welcome. I was not treated as a guest, but a member of the family. I was just a Christian bachelor at the time 3000 miles from family. Kelly's family became my family that day. Kelly's parents have always looked at me as a son and her brother is my brother. I am so very thankful for them, and their love has made an indelible mark on my life.
I am thankful for all the cards and goodies on the first Thanksgiving Day that I was deployed on a submarine in the United States Navy. I was in my early 20s and away from home, family, and friends. This was my first deployed holiday. The cookies and cards that came from people around the country just trying to make a sailor feel appreciated did just that. I recall the thing that struck me the most was that people would spend time baking goodies, having their class make cards, or writing letters to men serving in the military just to show appreciation. These were people that didn't know me, yet appreciated me. That impacted me deeply.
I am thankful for the life-long friends that I have made. Thanks to social media, I am able to stay in contact with friends from my childhood like Tim and Rich. I think about friends I made while serving in the Navy that I am still in contact with here at home or via social media. Friends who are there through thick and thin and you can call for anything, even in the middle of the night, like Scott and Bud. Friends that, even when you fall out of contact for a time, when you reconnect it seems like no time has passed and you pick up where you left off. I hold these friends very dear.
I am thankful for the new friends and acquaintances I have made also. Other volunteers in scouting and friends who gather together weekly for supper and Bible study. I try to never take any of these for granted. Some are people that I do not necessarily agree with politically or on social issues, but on the same token, are true friends and understand that friendship is not based on total agreement on all issues and circumstances, but respect, laughter, and life spent together learning and encouraging one another. Friends like Greg, Bill, and Joe come to mind.
I am thankful to God for the desires, talents, and opportunities I can use to make this world a better place and encourage people while serving them. As I look at changes in my life starting to occur, once again, I stand on the promises of God and the encouragement from godly friends and mentors. I relish the way God has granted me the desires of my heart and then spurred me on to use the talents he has given me as I experience those desires. I am amazed at the opportunities that God has placed before me, that I am so very unworthy of, yet thankful that He has placed his trust in me to carry out His work.
Of course, I am thankful to Jesus Christ, God's own son, who paid the price for my sin, and yours too. Without his sacrifice on that Roman cross 2000 years ago, we would be forever separated from God. Without his subsequent resurrection days afterward, we would not have the power we have today to stand up to death, Hell, and the grave and put the devil in his place.
1 Thessalonians 5:16-18 (NIV) says, "Rejoice always, pray continually, give thanks in all circumstances; for this is God's will for you in Christ Jesus." On this Thanksgiving Day in 2019 I rejoice, I pray, and I am giving thanks for all these and so many more blessings in my life. I also pray for all of you for the love and peace of God, which surpasses all understanding, to envelope you and make your days blessed and bountiful in heart.
Happy Thanksgiving!
You might also like